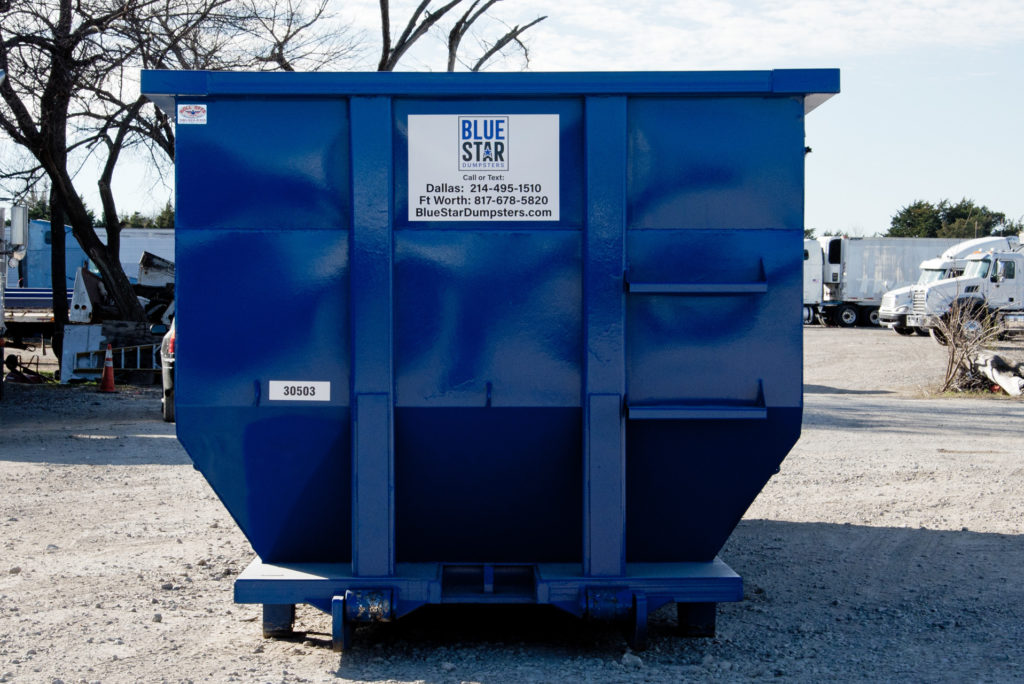 Maybe you've heard, and maybe you haven't, but the City of Dallas Department of Sanitation Services recently decided to limit your total bulk trash pickup to 10 cubic yards per month. 
One month per year, you can set out 20 cubic yards of trash. But, you must specially request pickup for it by calling 311. 
In case you're wondering, one cubic yard is about the size of your stove (it's actually a little bit smaller). So you can set out about 10 stoves of trash monthly. 
If you go over the limit, the City adds a $60 fee for every 5 cubic yards you go over to your utility bill. The minimum charge is $60, so you will pay at least that much.
It's actually not too hard to calculate how much you've set out for the month. To do that, simply multiply the depth, length, and width of the pile and then divide by 27. 
So, if you have a pile of branches that measures 10 x 4 x 3 feet, multiply those numbers together to get 120. Then divide 120 by 27, which gives you 4.44 cubic yards. 
That single load can be picked up without costing you any additional fees. However, you have to remember to add that pile to any other pickups you have made during the month. And those combined pickups have to equal less than 10 cubic yards total to avoid additional pickup fees. 
If you have a pickup that goes above 10 cubic yards, the City will have the load measured, photographed, and picked up. Then you'll get charged the additional fee on your utility bill. 
Why is the City of Dallas Enforcing These Changes?
They're actually being fairly vague on the issue. The official word from the city is to "streamline brush and bulky trash pickup." 
So apparently, it doesn't have anything to do with helping the environment.
That probably makes it a cost-cutting measure. 
In any event, you can't do much about it except adjust to the changes. 
How Do You Dispose of Bulky Trash in Dallas Right Now? 
First, you have to know your collection week. The City of Dallas assigns collection weeks for every week of the month. 
If you don't know yours, call the City of Dallas Department of Sanitation at (214) 670-5111. 
To actually get rid of your trash,  just make sure to set it out behind the curb and not in the street. Keep it at least 5 feet away from parked cars, telephone boxes, water meters, mailboxes, utility poles, fire hydrants, and traffic signs. 
And definitely don't put your bulky trash in the road up against the curb. 
"Bulky" trash eligible for collection includes: 
Tree limbs less than 8 inches in diameter or less than 10 feet in length

Shrubbery

Furniture

Appliances (with freon removed)

Mattresses

Bagged household trash

Any household object too large to go in your trash roll cart 
And here's what you can't throw away: 
Regular household garbage

Wet solid waste

Construction debris of any kind

Car parts

Any machinery containing gasoline

Soil, rocks, and stones

Hazardous waste (chemicals, paint, and fuel)

Tires
It's easy to schedule your once-yearly bulky trash pickup of no more than 20 cubic yards of waste. 
To do so, you simply call the city's 311 service. As long as you're within Dallas' city limits, you simply call 311 and ask to schedule a bulky trash pickup of no more than 20 cubic yards. 
You can also call (214) 670-3111 to get to the same service. 
Your 20 cubic yard pickup will then happen during your normal collection week. 
What Do You Do If You Need to Dispose of More than 20 Cubic Yards of Bulky Trash, or If You Can't Wait? 
The City provides sanitation services as best it can with the budget it has. But, it doesn't cover every situation. 
If you have way more than 20 cubic yards of bulky trash, or if you've already used that once-annual collection, you have several options: 
Wait and throw it away in increments over a period of months so you avoid the additional collection fees 

Make multiple time-wasting trips to the landfill and pay any of its fees

Donate what you can to Goodwill, Salvation Army, or Habitat for Humanity 

Try to sell some of your stuff online

Simply exceed the City's specified limit and pay the $60 for every 5 cubic yards thrown away 

Rent a 20-30 cubic yard dumpster and get rid of it all right away 
Storing your trash and throwing it away slowly over time isn't convenient. You'll have to live with it, and you might be sick of staring at it already. And depending on the amount, it could be a few months before you get rid of it. 
You can take your stuff to the landfill. But it takes a lot of time. It also wears your body out and isn't fun work. And it can cost you money too. 
You can donate to local charities also. But they won't take trash. They'll only take usable or resellable stuff. 
Generally, trying to sell your reusable bulky stuff online doesn't work well. Bulky items have high shipping fees. 
And it could easily end up costing you far more to sell and ship your stuff than it would to simply dispose of it. It also takes time to set up your online listing and actually make the sale. 
You can also just pay the additional $60 for exceeding the monthly limit of 10 cubic yards on an ongoing basis. But obviously, that has a cost to it. 
And last, you can simply rent a 20-30 cubic yard dumpster and toss all of your stuff away immediately. With a dumpster rental, you can also throw away some things the City's Sanitation Department won't accept. 
That includes construction debris, soil, rocks, and stones (with approval upon request), car parts (but not fluids), yard waste of any kind, and more. 
So anyway, you have to evaluate your situation and figure out what makes most sense for you to do. 
It's not easy to throw stuff away anymore. But you certainly have options available.