Roll-Off Dumpster Rentals for Irving and Dallas Businesses
Easy. Reliable. Fast. Never a Hassle. And No Confusing or Hidden Fees!
Your project requires the disposal of a lot of waste debris. And you want someone who hauls it all away without a single hiccup.
You want to focus only on coordinating and completing your project. You don't need another vendor involved that you have to supervise.
You've heard of, and maybe even experienced, roll-off dumpster companies who do all sorts of irritating things. Some don't deliver your roll-off dumpster the right day. Others don't come at all.
And still, others play games on your invoice, inventing bizarre charges like the "fuel surcharge."
You already have enough stress on your plate. You want a roll-off dumpster company that doesn't add to your stress. In fact, you don't even want to think about them. You simply want to call, pay and know you'll get your dumpster when you need it, and then the company takes it away when full.
It sounds so simple. But it's so hard to find.
With Blue Star Dumpsters, however, you get roll-off dumpsters in such a simple, fast, and easy way that it seems like we're part of your company. Just call or text, pay, get your dumpster next-day, and then call or text us to pick it up.
That's it. That's all there is to it.
Need roll-off dumpsters for weeks or months at a time? No problem. When you call or text, simply let us know how long you need yours.
And if you have a question or concern, you can talk with (or text) a live person who listens, cares and has the decision-making power to get you a fast and fair solution.
Getting roll-off dumpsters simply couldn't be any easier or more convenient. We take pride in making you look smart. You'll feel glad you chose Blue Star and you'll grow your good reputation at your company. Contact us now!
Get your free quote today!
How Do You Know You'll Get Consistently Excellent Service with Blue Star Dumpsters?
Every roll-off dumpster rental company in Dallas and Irving works a little different. At Blue Star Dumpsters, it's our goal to make your service experience fast and easy.
Our owner has more than a decade of experience in the commercial disposal industry. Her previous company served among the most reputable businesses, non-profits, and professional sports teams in Dallas, and was later acquired by a nearly $1 billion company.
That means she understands your needs and knows how to consistently deliver on our promises of fast, reliable, and hassle-free roll-off dumpster rental service. Not only does she provide you with the roll-off dumpster you need, but she's a business owner herself, so she understands the stress you face daily.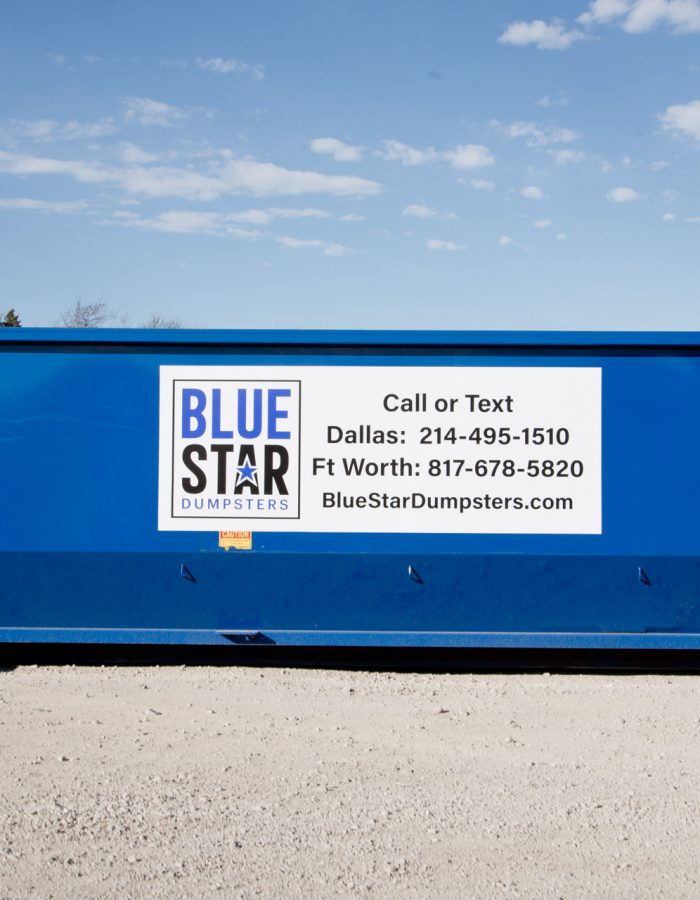 Is Blue Star Dumpsters a Broker?
No. We provide the roll-off dumpsters ourselves. While we do have relationships with brokers who refer business our way, we are your direct service provider.
That means when you call Blue Star, you talk to a live person who cares and has the decision-making power to resolve your concern immediately. You don't have to call around, being transferred from person to person, only to find yourself lost and without a solution.
What Do You Need to Know
about Roll-Off Dumpsters Before Renting?
We aim to make renting roll-off dumpsters effortless, without even a single hassle. At the same time, you should know some simple guidelines so you have clear expectations for how the service will work.
For starters, you can get either a 20 or 30 cubic yard roll-off dumpster. Prices will not exceed $500 for one dumpster. We understand cost savings are important, so you should go with the largest roll-off dumpster you think you'll need. That's because you'll end up paying more if you go with a smaller dumpster, have it picked up, and then get it delivered again. And additional fees apply if you overfill your dumpster.
You get your roll-off dumpster for 10 days. If you keep yours longer than that, additional fees apply. If you need your roll-off dumpster on an ongoing basis for weeks or months, please let us know and we're happy to accommodate.
Our goal is to make this crystal clear up-front so you don't have any surprises when you get your roll-off dumpster.
Next-Day Delivery Means
You Have Your Roll-Off Dumpster When You Need It
Business gets stressful. Sometimes you lose track of things, even though you're highly organized. It's the nature of business. It happens.
That's why Blue Star Dumpsters promises next-day delivery of your roll-off dumpster. It's always easier if you reserve yours at least a couple days ahead of time because doing things last-minute only increases your stress.
But, we're here to help you if you find yourself in a crunch. And you might be able to get your roll-off dumpster even sooner than expected. We can't guarantee that, but sometimes other customers cancel their roll-off dumpsters and one becomes available sooner than expected.
If that's the case, we're happy to deliver your roll-off dumpster even sooner than promised.
What Can and Can't You Put In Roll-Off Dumpsters?
Basically, you can put in most construction debris without any problems.
However, shingles, sod, dirt, concrete, cement, bricks, and basically any masonry requires approval. If you toss anything in your roll-off dumpster that you shouldn't, additional fees and fines may apply.
You can find a detailed list of the city/locations served pages on this website.
Our goal is to make sure you don't have any difficulties. So, please call or text 214-495-1510 and ask any questions you have.
Dallas and Irving Businesses: Get Affordable Roll-Off Dumpsters Next-Day with Zero Hassles!
In business, you just don't need any more inconvenience. And Blue Star Dumpsters makes getting roll-off dumpsters stress-free!