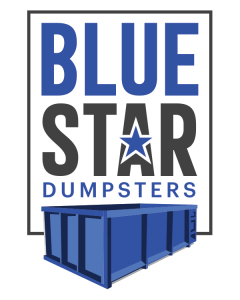 IRVING'S EASIEST, MOST RELIABLE, AND
Affordable Dumpster Rentals.
Zero Hassles. Pay Only As Quoted. And Talk to a Live Person Who Cares.
Whether you're a consumer or a business, getting a dumpster rental at the price you need when you want it, without any hassles, shouldn't be a challenging experience.
But, getting a dumpster rental at an affordable price without any additional inconvenience can actually be quite difficult. You've heard stories about dumpster rental companies showing up at the wrong time, sometimes not coming at all, or even adding strange fees to invoices.

Or, maybe you've heard of brokers who provide the service, and that it's impossible to talk to a person when they get involved.

Actually getting affordable dumpster rentals can be a highly stressful experience when you already have all the stress you can handle.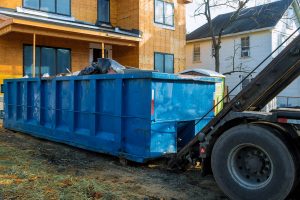 And that's where Blue Star Dumpsters come in. Unlike other dumpster rental companies in Irving, you get your dumpster with absolutely no hassle at all.
You call or text. You pay exactly as quoted without any hidden fees. You get your dumpster the next day. You fill it up. And then we take it away.
That's it! That's all there is to it.
Since we're owned and operated right here in Irving (we're not a broker), we put relationships first. That means when you call, you talk to a live person who listens to your concerns and cares about fixing them. And if you text, you get a prompt, clear response that answers your question.
You always get your dumpster rental when you need it. And there's no confusion.
Getting dumpster rentals in Irving couldn't be any easier or more convenient. And the same great service applies if you're a business looking for roll-off dumpsters on an ongoing basis.
Roll Off Containers & Dumpsters For Rent
How Does Blue Star Dumpsters Consistently Provide Excellent Service to Irving and Dallas Consumers and Businesses?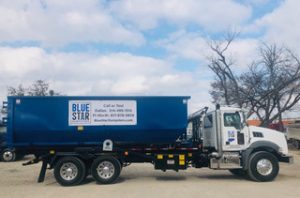 Our owner has more than a decade of experience serving Irving and the entire Metroplex's waste removal needs. She understands how stressful it is to be removing waste materials from your home or business, while also trying to find someone trustworthy to deliver a dumpster rental.
In her previous business, which later was acquired by a much larger company, she had such an excellent reputation that leading businesses, non-profits, and even professional sports teams in Irving turned to her to remove their waste.
So today, when you choose Blue Star Dumpsters for your dumpster rental, you get super-smooth service that you don't even need to think about at all. That means you can focus exclusively on your project.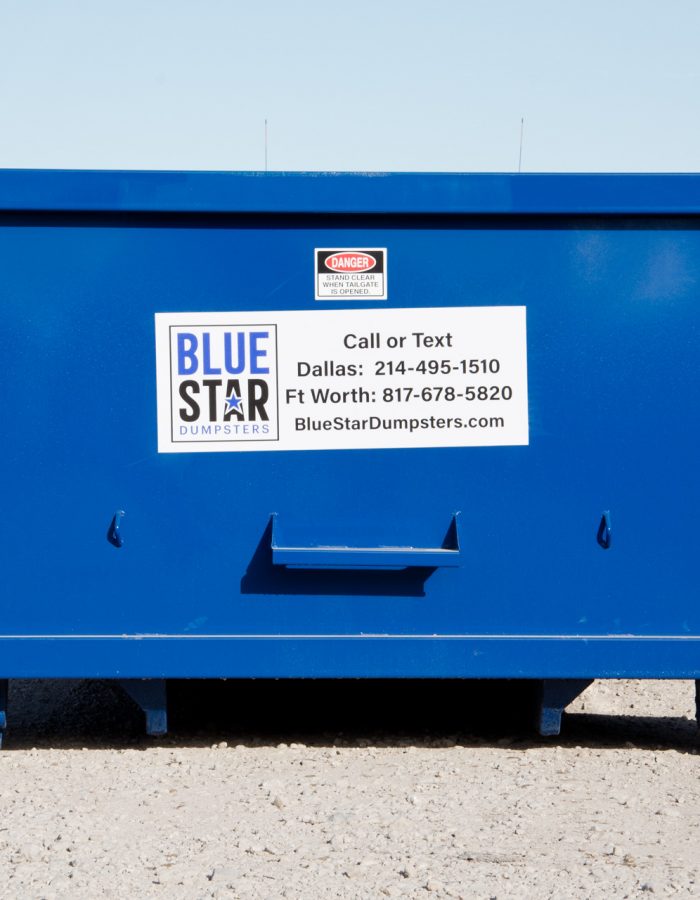 Does Blue Star Offer Roll-Off Dumpsters to Irving Businesses on an Ongoing Basis?
Yes. We serve businesses in Irving and Dallas. You don't have time to supervise the company providing you with a roll-off dumpster.
You're already busy defining your project's scope, allocating financial and time resources, finding and shortlisting vendors, getting quotes, and finally making hiring decisions.
And, you want to choose a dumpster rental company in Dallas who provides excellent service so you maintain your personal reputation at your company. You simply don't have time to worry about the company delivering your roll-off dumpster.
And again, that's where Blue Star comes in. Simply let us know your roll-off dumpster needs, and how long you think you'll need the roll-off dumpster. Then pay, get it delivered, fill it up, and repeat.
If you have any questions or need any help making decisions, just call or text 214.495.1510 and we're happy to help and get you a free quote!
Locally Owned And Operated:
Serving Irving, Dallas, and the Entire Metroplex.
The roll-off and dumpster rental industry in Irving has many brokers. These brokers can actually operate on the other side of the country. They do the marketing and sales, and once they've created the relationship with the customer, they pass on the actual delivery of the dumpster to a local company. Brokers can sometimes become too concerned with profit, which leads to a decline in service and the creation of hidden fees.
Remember that Blue Star is not a broker. We do have brokers who refer customers to our direction. But, we provide the actual dumpster rental service to Irving residents and businesses.
And that means we care about making sure you get the best service possible each and every time. So, you always get to talk to a live person when you call. They listen, care, and have the power to make a decision so you get a resolution that makes you happy.
Total Convenience:
We Do Business The Way You Do Business
Feel free to call, email, or text: whatever's most convenient for you. Playing phone tag takes a lot of time that you don't have.
So you can certainly pop us a text (214.495.1510) and expect the same excellent service you'd get by phone or email.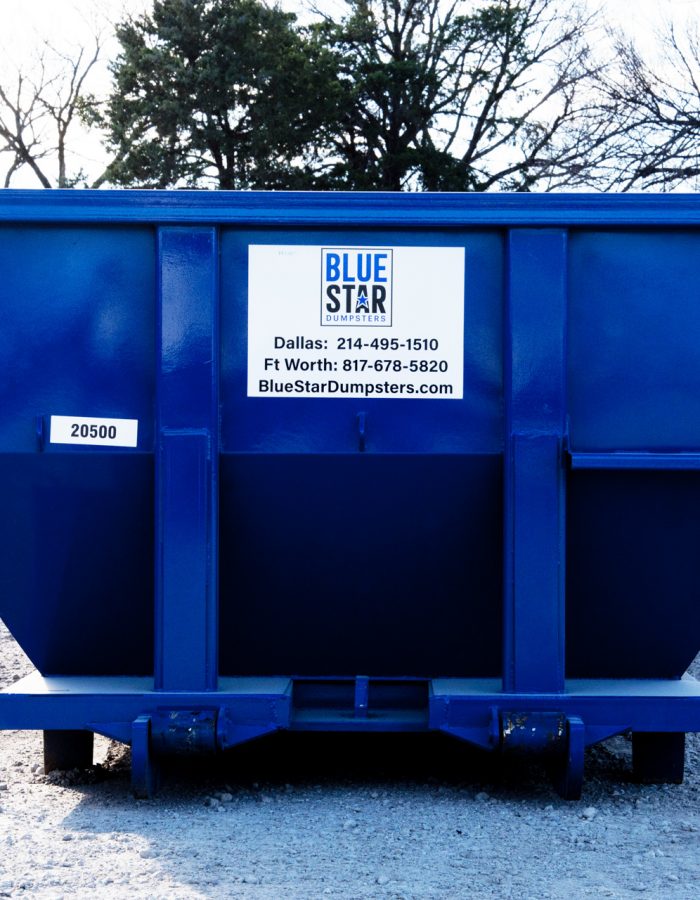 What Should I Know About Dumpster Rentals
Before I Get Mine?
Our goal remains to make dumpster rentals as fast, easy, and simple as possible for you. At the same time, we do have to outline some basic guidelines so you have clear expectations, no confusion, and can easily get your questions or concerns resolved in a fair manner.
Below, you can learn the basics. Greater detail can be found on the cities served pages throughout this website.
Cost for Dumpster Rentals in the Irving Market
For starters, expect to pay no more than $500 for your dumpster rental, whether 20 or 30 cubic yards. This includes both standard dumpster rentals for consumers and roll-off dumpsters for businesses. And remember you always get excellent service with no hassles.
When Additional Fees Can Apply
Additional fees can apply to dumpster rentals. However, we lay them out clearly up-front both on this website and in the agreement you sign so you don't have any surprises. For example, additional fees can apply if you cancel your affordable dumpster rental with less than 24 hours of notice, or if you block access so our driver can't make the pickup.
Other fees can apply so make you read the cities served/locations pages on this site and the agreement you sign.
To prepare for the delivery of rental or roll-off dumpsters, you need to have a clear, level space somewhere on your property. Sometimes, this can be tricky to identify if you have a condo or live in a Homeowner's Association. But, you can usually find a space. And if you're not sure, you can always give us a call to help you figure it out.
If your dumpster rental will go on your driveway, you should lay down 4×8-foot sheets of plywood to protect it from damage. Otherwise, you run the risk of cracks. Cracking doesn't happen often. However, it can. And we cannot be held responsible if it does.
Dumpster rentals can sometimes go in the street. But, this depends on the laws of your municipality. You may need a permit. Call your local municipality prior to getting your dumpster to confirm, and so you don't get a fine.
What You Can Put In Your Dumpster
Certain materials can and cannot go in dumpster rentals. And others require approval. The city/locations served pages on this website spell out specifics. And if you have a material not on our list, please call ahead to confirm if you can place it in your dumpster. Fines and additional charges may apply if you place materials in your dumpster which shouldn't be there.
How to Choose the Right Size Dumpster Rental
Choosing the right size of the dumpster can be somewhat tricky. You may feel tempted to go with the smallest dumpster possible to save on costs.
We understand that, but usually, that costs you more. Most likely, you'll fill your dumpster but still have more to toss out. So then you have to pay to have the dumpster picked up, taken away, and delivered again. That costs more than just getting a larger dumpster in the first place. And it costs you some time and disruption to your project too.
Generally, if you're walking to dispose of your waste, 20-yard dumpster rentals will do the job. However, if you need to use machinery to dispose of your junk, then 30-yard dumpster rentals work best. You can always call or text, let us know how you'll do the disposal, and we can get you the right dumpster.