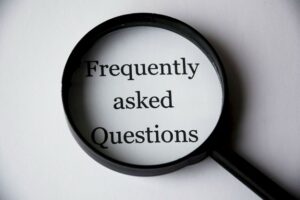 Because you're so busy in life, you may feel tempted to hire the first dumpster rental company for your convenience. However, you can put yourself at risk of hiring the wrong dumpster rental service and might not get the dumpster service on time.
With that, if you can, avoid finding dumpster rental services at the last minute. Instead, talk to a few and compare them against one another. Politely confront them with what other dumpster rental companies say to learn their opinion on certain aspects of dumpster rentals.
Also, when you have that conversation, make sure you ask these essential questions:
1. What junk can you take?
They must be able to take what you need to dispose of, right? Unfortunately, that can sometimes depend on local landfill laws, which can vary by jurisdiction. What you can toss in various localities can be tightly regulated. So, when you describe what you need to get rid of, be as detailed as possible so there's no confusion. While you simply may have no way whatsoever to give any dumpster rental company your junk, you want to know that you can get rid of as much as possible.
2. What size dumpster do I need?
You measure the size of a dumpster rental in cubic yards, which is roughly the size of your oven. It's easy to determine what you need. If you're going to walk stuff to your dumpster, you'll be alright with a 20-yard dumpster. But if you're going to use machinery to load your dumpster, then you'll need a 30-yard dumpster.
Most dumpster rental in Dallas TX (Texas) or roll-off dumpster companies use roll-off containers in loading waste or other loaded waste types. These roll-off dumpster rentals are most usually in demand for collecting bulk wastes or during a demolition. Still, it is vital to find out the size of the dumpster you need. With that, consulting the dumpster rental company could help if you have any doubts according to what you need.
3. How much does a dumpster rental cost?
Costs for dumpster rentals really shouldn't be complicated. The dumpster rental company should be able to tell you that your dumpster rental costs this much for these many days. After that, additional fees will usually apply. If it gets any more difficult to explain costs than that, then you might have someone looking to weasel more money out of you.
There are many dumpsters rental in Irving TX that offers affordable dumpster rental. One of them is the Bluestar dumpster. This dumpster rental that offers service in Dallas has several positive reviews and feedback from their customers and clients.
4. Do I need a permit?
This one varies by municipality. You don't want to have your dumpster rental in Dallas sitting in your driveway or on the side of your street, only to find out that now you're going to pay fines because you don't have a permit.
Double-check with your dumpster service company as to whether this will be their responsibility or yours. Then relax when you have your dumpster rental because you don't have to worry about the city or your nosy neighbors!
5. How do I prepare for my dumpster rental?
You don't have to do too much. But you do need to think about where you want to put your dumpster. If you like to put it in your driveway, then you should lay down sheets of plywood to protect your driveway from cracking under the weight of the dumpster.
You can also put your dumpster anywhere on your grass. But understand that it will more than likely kill all the grass beneath. Usually, you'll end up with it in an easily accessible part of your driveway or on the shoulder of the street.
6. How long do I get to keep my dumpster?
You can keep your dumpster if you want. But the dumpster rental company will eventually start charging you fees. Make sure you understand how long you can keep your dumpster without additional charge. Oh, and don't procrastinate. Make sure you're ready to use your dumpster from the moment you get it. Life has a way of piling up more than you can handle. So, give yourself every opportunity to fill your dumpster up before those additional fees come due.
7. Is this in the contract?
Make sure you ask every dumpster rental company what's in or not in the contract. Then, go and read the agreement. Allow for human mistakes. But if you find any glaring discrepancies between the contract, prepare to move and choose other dumpster rental companies. If you want something more, you can talk to the dumpster rental company about the difference between what they said and what you read.
8. What's the max weight limit?
You won't be able to weigh your dumpster while you load it. But a usual dumpster rental company in Dallas/Fort Worth can tell you if what you'll load will exceed their weight limit.
For homeowners, it's hard to exceed that weight limit. But if you're in business, you may have a good chance of doing just that. You'll also want to know what additional fees are if you do exceed the weight limit.
9. Can you help me with other aspects of junk removal?
Usually, dumpster rental companies can't help with other aspects of removing your junk. They'll deliver your dumpster only. However, if you have stuff that can't go into their dumpster, they'll know how you can get rid of it. It can be hard to dispose of some things.
10. Where are you located?
Some dumpster rental companies have broker deals. They may have a physical location thousands of miles away or may not have a physical location at all!
Generally, local dumpster rental services have a strong interest in offering good service because their reputation depends on it. Larger brokers, however, simply pass you off to the actual service provider. What happens when you interact with the brokered dumpster rental service isn't their problem.
11. Are appointment options available?
Need your dumpster delivered or picked up after work? Some dumpster rental companies can accommodate you. Others can't. If you have special requests related to your dumpster rental, make sure to ask that upfront.
12. Are you licensed and insured?
Any dumpster rental company worth its salt has proper licensing and insurance. Ask to see both if you want protection in the case of an accident because license and insurance are essential things. There's no reason your dumpster rental service shouldn't have both. That's the complete list. Try not to come across as an interrogator! But do your due diligence so, you have a stress-free experience that allows you to focus on disposing of your stuff instead of supervising your dumpster rental company!