Dumpster Rentals for Irving and Dallas Residents
Easy. Reliable. Fast. Never a Hassle. And No Confusing or Hidden Fees!
You have a lot of stuff to throw out and you know you need a dumpster rental. But, you've heard all the problems with dumpster rental services:
The staff are rude
The dumpster doesn't come on time
You never even get your dumpster
You get odd-sounding charges on your invoice
You can't talk to customer service
The experience can be much like calling your cable or satellite TV company. You know no one cares, and you just hope that by some miracle, you get good service without having to pay any obnoxious hidden fees.
Dumpster rentals don't have to be that way. At Blue Star Dumpsters, our owner has more than a decade of experience operating waste disposal companies in Dallas.
That means she understands how to get your dumpster rental to you without any delays, hassles, or hidden fees. And if you have a question or don't understand something, you simply call or text and get a prompt, clear answer from a live person who listens to you and cares about solving your problem.
With Blue Star Dumpster, dumpster rentals come next-day. Just call or text, ask your questions, reserve your dumpster, pay, fill it up, and then have us come take it away.
Yes. It is just that easy. You don't need any more stress or hassle than you already have. Getting the dumpster rental you need when you need it and at the price promised couldn't be any easier or more convenient.
Get your free quote today!
Why Should You Trust Blue Star?
Our owner has been in the waste disposal industry in Dallas and Irving for more than a decade. Her previous company served some of the most prestigious businesses, non-profits, and professional sports teams in the area. Her previous business was eventually acquired by a nearly $1 billion company.
That means she understands how to design and run a business that gets dumpster rentals to customers without any problems or delays.
Blue Star is also not a broker. We are locally owned and operated. Many affordable dumpster rental companies are actually brokers, which means they operate out of the local area. And frequently, they don't care to provide good service because their reputation doesn't depend on it.
While Blue Star gets dumpster rental service referrals from brokers, we are not a broker. And when you call you to talk to a live, local person with decision-making power so you don't get transferred around 2-3 times before you get an answer to your question.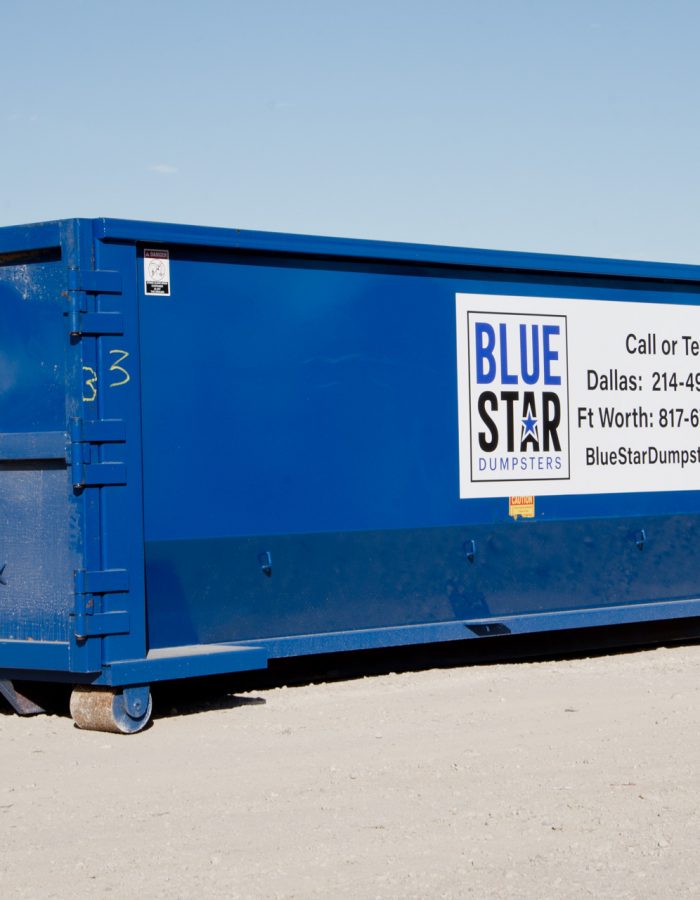 What Should You Know about Blue Star's Dumpster Rentals Before Renting?
Our dumpster rentals do not exceed $500. That's the maximum price you can expect to pay. And you won't find any unusual fees on your invoice (like a "fuel surcharge").
The difference between Blue Star and other companies who charge the same lies in the quality of service. You will get your dumpster rental next-day. There's no doubt about that. You won't experience any additional hassles or delays. And you won't find confusing fees on your invoice.
One of the biggest mistakes customers make is renting too small of a dumpster. They want to save money, so they choose the smaller size. However, this ends up costing you more because when you fill it up, our driver has to take it away and bring it back again. If you go with the larger size first, you won't incur those additional pickup or delivery costs.
How do you know which size to choose? Look at how you dispose of the material. If you just walk back and forth from your dumpster rental, you'll be fine with a smaller size. But if you have some sort of machinery assisting you with disposal, like a backhoe, then you're likely to dispose of enough to require a larger size.
There are strict requirements on what you can and cannot put in your dumpster. Please see the city/locations served pages on this website for specifics.
Next-Day Delivery Means
You Get Your Dumpster Rental When You Need It
We promise next-day delivery. Sometimes, this can even be sooner because some customers cancel their dumpster rentals and you can get theirs. But, we can't guarantee that. At the same time, you know you'll have your dumpster rental when you need it.
Dumpster rentals do have some useful guidelines. And you can be charged fees if you don't follow those guidelines. But we like to be up-front so you're not shocked or surprised if that happens.
When you rent your dumpster, you get it for 10 days. If you keep yours longer than 10 days, additional fees apply. Fees can also apply if you overfill your dumpster, dispose of banned materials, if you call for a pickup but aren't ready, if you block our truck's access to your dumpster, or if you cancel your dumpster rental with less than 24 hours' notice.
These terms are meant to be fair and straightforward. You do sign an agreement that outlines all these terms so you have a written record to refer to. And now that you know the guidelines for affordable dumpster rentals, you know what to do and not do so you don't have any additional fees.
Irving and Dallas Residents:
Get Your Free Dumpster Rental Quote Today!
Understand how it all works? Need a dumpster but don't want the hassles and invoicing games some dumpster rental companies play?