The Easiest, Most Reliable & Affordable Dumpster Rentals in Dallas
Easy. Reliable. Fast. Never a Hassle. And No Confusing or Hidden Fees!
It always seems like a service provider of any kind would rather have your money than give you excellent service, doesn't it?
You don't need any more stress or hassles because you already have enough with your current remodeling project. It's an exciting time, and you only want to focus on the new design and how great it'll look when done.
But you've heard about the problems that happen with companies who offer dumpster rentals. They don't show up on time. Sometimes, they don't show up at all. When you try to call them, they don't answer or they transfer you around in circles. And when it's time to pay, you get a confusing invoice with charges you don't understand.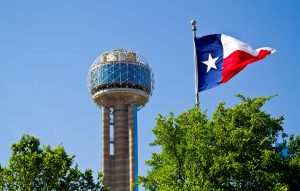 That absolutely happens with dumpster rentals in the Dallas area. But it doesn't have to when you choose the right company.
And that's where Blue Star Dumpsters comes in. We always show up on or ahead of time. So, you always get your dumpster and don't have any delays. When you call, you talk to a live person who listens, cares, and has the power to make a decision that makes you happy. And when you get your invoice, you understand exactly what you pay for and why.
How do you know you can trust Blue Star Dumpsters to do exactly that?
Our owner has more than a decade of experience in waste disposal and affordable dumpster rentals in Dallas and the entire Metroplex. She gets the importance of personal service and good old fashioned prompt and reliable service that doesn't cause you any additional hassles.
Her previous company served many of the most prestigious non-profits, businesses, and professional sports organizations in Dallas. And it eventually was sold to a nearly $1 billion company.
So that's why when you call or text Blue Star Dumpsters, you know you simply call, pay, get your dumpster the next day, and then call and have it picked up when you're done.
That's it. That's all there is to it.
Get your free quote today!
FAQs: What Do I Need to Know about Dumpster Rentals Before Renting?
Blue Star aims to make dumpster rentals as simple and fast as possible. At the same time, you should know some things so you avoid the unexpected.
Here's what to know about dumpster rentals: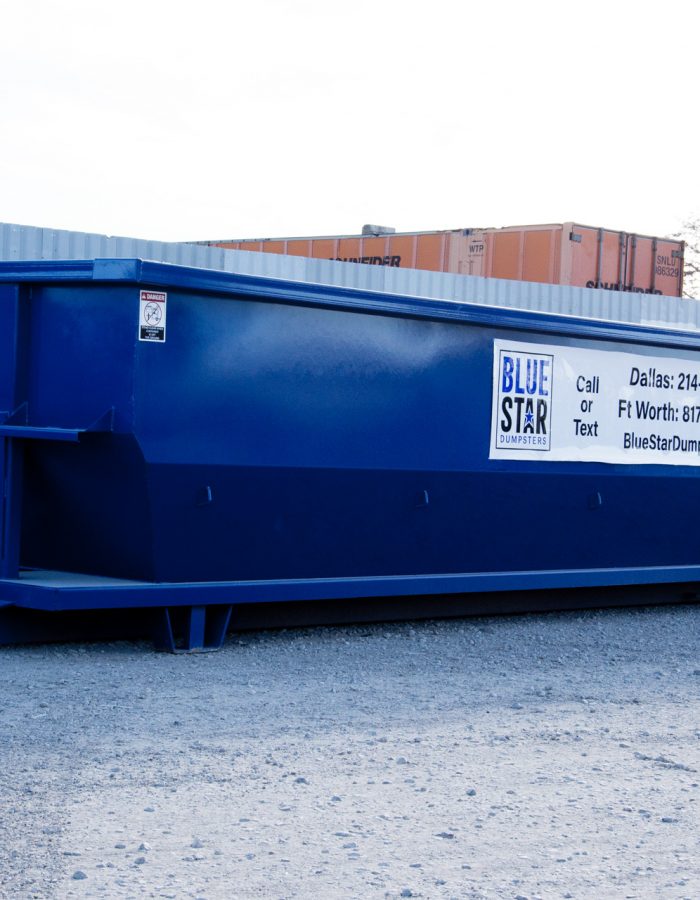 1. How much do dumpster rentals cost?
Expect to pay no more than $500, which is competitive with other affordable dumpster rentals. The difference with Blue Star is that you get service from a local company that prides itself on having a spotless reputation.
That means you get prompt answers to your questions. You'll also get your dumpster the next day as promised. And you only pay exactly as quoted.
2. Can additional fees apply?
Yes. But only if you don't use your dumpster rental the way you should. All the fees are below so you can understand and follow the expectations and avoid any of the fees.
Additional fees may apply if you:
Keep your dumpster rental more than 10 days
Overfill your dumpster (more on that in question #3)
Put material in your dumpster rental that you shouldn't (further detail in question #4)
Call for a pickup but aren't ready
Block the path to your dumpster rental so our driver can't access it
Cancel your dumpster rental with less than 24 hours' notice
If you stay within those guidelines, however, you won't have to pay any additional fees.
3. How can I avoid overfilling my dumpster rental?
It's not as tricky as it seems at first. Look at how you're disposing of material to judge this. If you only have to walk and toss stuff in your dumpster rental, you can get away with a smaller dumpster.
If you have to use machinery to dispose of material, like a backhoe, then you should go with a larger dumpster.
And in general, you should go with larger dumpster rentals in the first place. That's because most homeowners tend to underestimate the size they need. And, it costs you more to get a smaller dumpster rental, have it picked up and emptied, and then get it delivered again than it does to just get a larger dumpster rental in the first place.
4. Is there anything I can't put in my dumpster rental?
We do have a strict (but simple) list of materials you can and can't put in your dumpster rental.

Here's what you can put in your dumpster rental:
Yard waste (grass, leaves, branches, and so on)
Painted wood
Stained wood
Construction debris
Household garbage
Furniture
Drywall (without asbestos)
You may also be able to put the below materials in too. However, ask for approval first:
Shingles
Sod
Dirt
Concrete
Cement
Asphalt
Brick
Block
Pavers
Sand
Gravel
Do not put the below materials in your dumpster rental. Doing so will result in additional fees and fines:
Tires of any kind
Appliances
Batteries
Adhesives
Food
Drywall with asbestos
Paint cans
Chemical containers
Liquid containers
Car fluids
Fuel
Oil
Car grease
Biomedical waste
Radioactive waste
Fuel tanks
Propane tanks
Hazardous waste
Animal waste
Animal carcasses
5. Can I get my dumpster rental last minute?
We can promise next day delivery for dumpster rentals. You may even get yours sooner than that, but this is not a promise.
Sometimes, customers cancel their dumpster rentals. Then you get theirs. But, we can't promise that.
So, count on your's arriving the next day.
6. Can dumpster rentals be placed on the road?
Maybe. You need to call your local municipality to find out. More than likely, they'll require a permit. You are responsible for having the permit necessary if that's the case.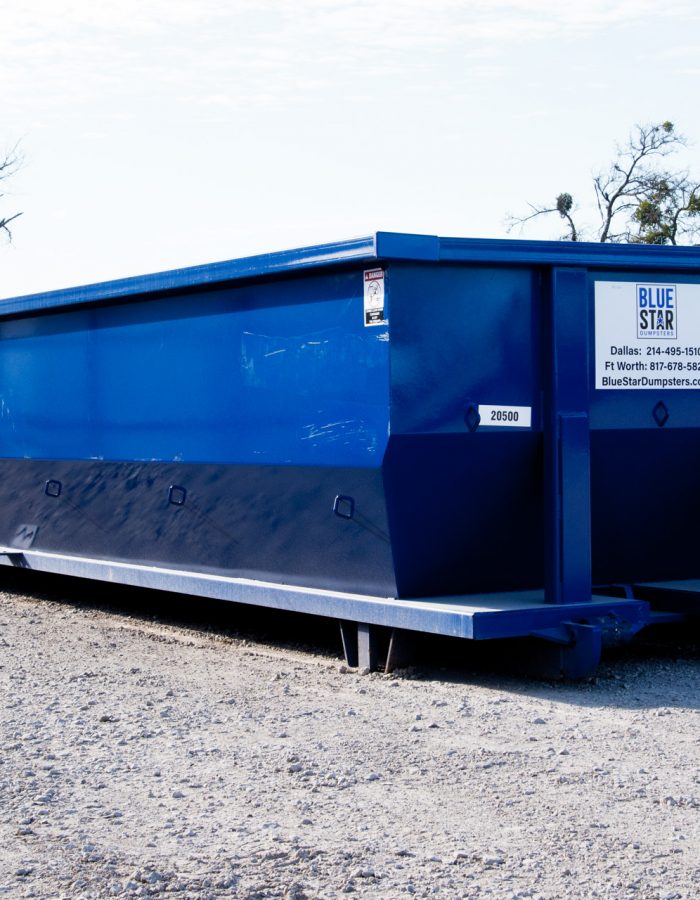 7. Do I need to do anything to prepare my property for my dumpster rental?
Yes. First, you should have easy access to the area where you want to place yours. You should have plenty of room so our truck and a 20 or 30 cubic yard dumpster can make it through easily. Dumpster rentals need to be placed on a flat, level surface.
And, if your dumpster rental will go in your driveway, you should have 4×8 foot sheets of plywood available to lay down for the dumpster to rest on. This protects your driveway from possible cracking.
8. Is Blue Star a broker?
No. We do sometimes get customer referrals from brokers. But, we are 100% local to Dallas and operated in the Metroplex.
That means you talk to a live person who wants to address your problems or concerns.
And you don't have to deal with being transferred around or being on hold for a long time.
9. Does Blue Star serve business/commercial customers with roll off dumpsters?
Yes. We're set up to deliver and pick up dumpsters from you location for weeks or months (whatever you need).
If you need a roll-off dumpster, we're more than happy to help. And you get the same great service as homeowners.
Plus, you get to keep your dumpster for 10 days before additional usage fees apply.
Yes! Dumpster Rentals in Dallas Don't Get Any Easier or More Reliable
Save yourself some stress and hassle and choose Blue Star.