Easy. Reliable. Affordable: The Way Dumpster Rentals Should Be for Rockwall Residents and Businesses!
No Hidden Fees. Zero Hassles!
When you have enough to fill a 20-30-yard dumpster, that's a stressful time. Whether you're remodeling, cleaning out a room, moving, or just doing some spring cleaning, you have a lot going on in your life.
Whether you're a homeowner or business with a lot of stuff to throw away, it's a stressful time. 
How will you find the time to do it? Where will it all go? And who can you hire to haul it all away? 
You've heard of, and maybe you've even experienced, the additional problems dumpster rentals can bring:
The company doesn't show up on time (or at all)
You call a broker who's not in the area and doesn't really care if you get your dumpster
You get an invoice with strange charges you don't understand and didn't know you agreed to 
It happens. But at Blue Star Dumpsters, you don't have to deal with any of the problems you hear about with other dumpster rentals. 
That's because we're a locally owned and operated company run by someone with more than a decade of experience in disposal. She understands how to make personal relationships and amazing service a top priority. 
And that means you:
Always get your dumpster on or ahead of time 
Can always talk to a live person with the power to make decisions that solve your concerns
Get a clear, easy-to-understand invoice with all charges exactly as promised 
So, you get peace of mind, knowing that you don't have to worry at all about your dumpster rental or roll-off dumpster. Instead, you only have to think about disposing of all the stuff you have on your property. 
You know you'll have your dumpster when you need it. You know you'll pay exactly what you expect. And you know that if something comes up, you'll get a prompt and fair resolution that makes you happy. 
What more could you ask for? 
Blue Star Dumpster does business the way you do business! Call or text 214.495.1510 or email us to get your free quote today.
Get your free quote today!
Questions Rockwall Residents and Businesses Frequently Ask about Dumpster Rentals
Getting affordable dumpster rentals in Rockwall is easy. And at the same time, there are a few things to know about dumpster rentals. 
Here's the most important stuff: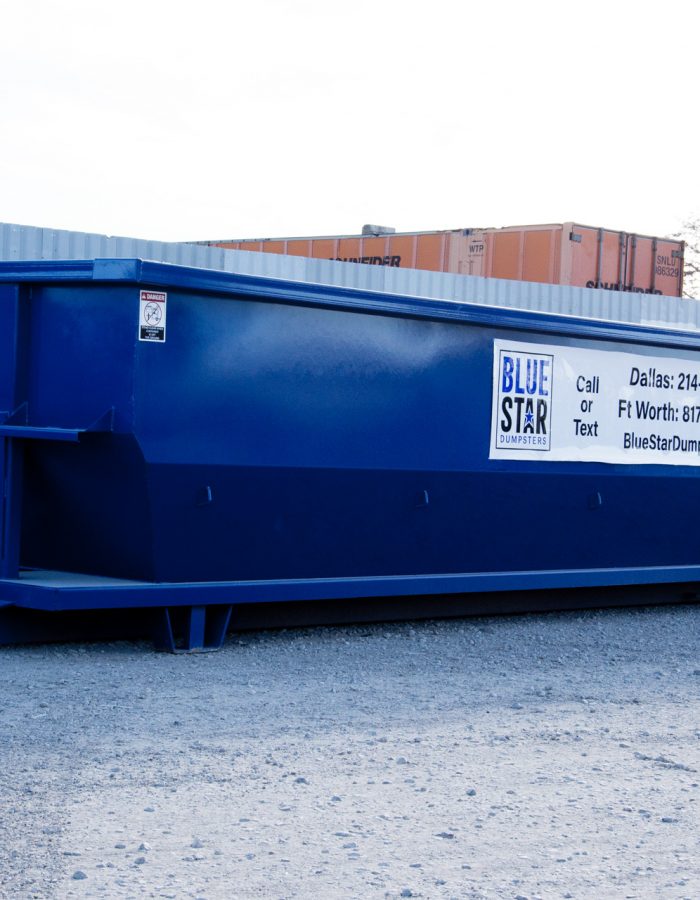 1. How much do dumpster rentals cost for Rockwall residents and businesses?
Ours are affordable and compete with anyone else in the market. Expect to pay no more than $500 for your roll-off dumpster rental (businesses) or standard dumpster rental (consumers). 
Remember, you get much more than just an affordable price. You also get excellent service from a local company that takes great pride in providing it. We're not an out-of-state broker. 
And you always understand your pricing up-front, with no games when you actually get your invoice. 
You get an affordable, fair cost. And you get great service too – at no additional cost! 
2. What do I have to do to prepare for dumpster rentals?
Not much. Your property needs a flat, level space for your dumpster rental to sit on. And you should throw down cheap 4×8-foot pieces of plywood so your driveway doesn't get damaged by the dumpster. While we don't want to damage your driveway, it's ultimately your responsibility to protect it.  
If you don't have a flat, level space on your property, you may be able to put your dumpster on the street. However, municipalities frequently have laws in place regarding that. So, you should call your local municipality and ask if you need a permit. If you run into any difficulties with any of this, please just call or text 214-495-1510 and we're happy to help you!
3. How soon can I get a dumpster rental?
You can get your next-day. We can't promise you'll get your dumpster rental if you call and want it at the last minute. 
Other customers might call and cancel. And you could get their dumpster. However, that's not a guarantee. 
So, you're best off planning ahead and calling as soon as you know so you can get your dumpster rental the day you want.
4. Do additional fees ever apply?
Yes. It's not our goal to trap you in a contract and find ways to hit you with more fees. 
But, certain situations can result in additional fees. Here's what they are upfront, before you pay, so you understand and can avoid additional cost: 
You do pay additional fees if they keep their dumpster longer than 10 days
If you overfill your dumpster, additional fees will apply 
Putting stuff in your dumpster that doesn't belong there (specifics discussed below) may result in fines
If you call for a pickup but aren't ready, you will have to pay additional fees
If our driver can't get to your dumpster because stuff on your property blocks their path, additional fees will apply
If you want to cancel your dumpster rental with less than 24 hours of notice
That's really about it. Avoid those things, and you have nothing to worry about.
5. What can I put in my affordable dumpster rental?
Here's a quick list: 
What you can put in: 
Grass, leaves, branches
Painted wood
Stained wood
Clean unpainted wood
Household garbage
Construction debris 
Furniture 
Drywall
Ask for approval to dispose of any of these: 
Shingles
Sod
Dirt
Concrete
Asphalt
Cement
Brick
Block
Paver stones
Gravel 
Sand
And please don't put any of these in dumpster rentals. Rockwall may hit you with additional fees or fines if you do: 
Tires of any kind
Appliances
Batteries
Adhesives
Food
Drywall with asbestos
Paint cans
Chemical containers
Liquid containers of any kind
Fuel, oil, or any car fluids
Car grease
Biomedical waste
Radioactive waste
Fuel tanks
Propane tanks
Hazardous waste
Animal waste/carcasses
If you have any doubt about what you want to put in your dumpster rental, please call or text  214-495-1510!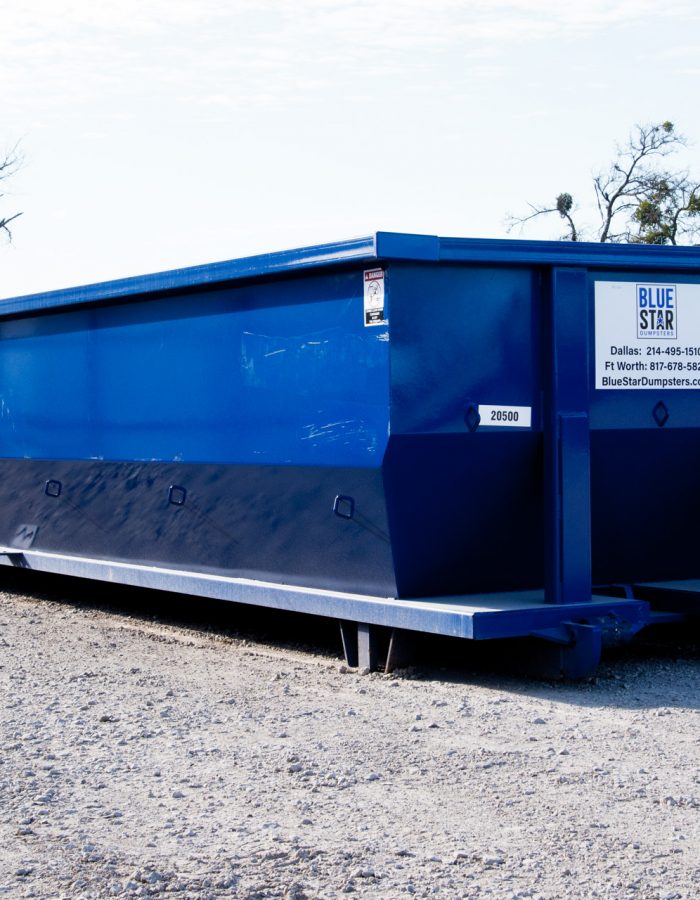 6. Should I just get the smallest dumpster rental so I pay less?
No. You actually cost yourself money with that approach. You're better off getting the right size the first time.
Most consumers underestimate the cubic feet required by their dumpster rentals. With Blue Star, you can get dumpsters which hold 20 or 30 cubic yards of waste.
When you underestimate, you end up having to pay more because that smaller dumpster gets taken away and emptied. Then you get a replacement dumpster. And you have to pay for those trips.
The total cost is lower by just getting the right size in the first place.
Generally, we say that if you manually pick up, carry, and toss stuff into your dumpster, you can go with a 20-yard one. If you use machinery, like a backhoe, to dump material into your dumpster rental, you probably have enough to fill a 30-yard dumpster.
If you're not sure, please just call or text 214-495-1510 and we'll clear up the matter for you right away!
7. Do I have to sign anything?
Yes. You do sign an agreement that clarifies fees and usage of our dumpster rentals so both you and Blue Star have something to refer to if any misunderstandings arise.
8. Do you provide commercial roll-off dumpster rentals for weeks or months at a time?
Yes. You can absolutely have roll-off dumpsters arranged. Again, please just call or text 214-495-1510 for your free quote.
Rockwall Consumers and Businesses: Get Your Affordable Dumpster Rentals Today!
Getting the dumpster rental you need, when you want it, and at a price that fits your budget couldn't be any easier or more convenient. Just call or text 214.495.1510 or email Blue Star Dumpsters to get your free quote today.