Richardson, TX Affordable Dumpster Rentals: Call. Pay. Next-Day Delivery. And Dump Your Junk.
No Hidden Fees. Zero Hassles!
When you have enough to fill a 20-30-yard dumpster, that's a stressful time. Whether you're remodeling, cleaning out a room, moving, or just doing some spring cleaning, you have a lot going on in your life.
You don't need any more hassle than necessary. But when it comes to dumpster rentals, many companies give you plenty of hassle. 
They forget to show up on time…or don't even come at all. Odd charges appear on your invoice (like the infamous "fuel surcharge"). And when you call, you never know if you'll get a hold of someone who can solve your problem…or someone who even cares to solve your problem.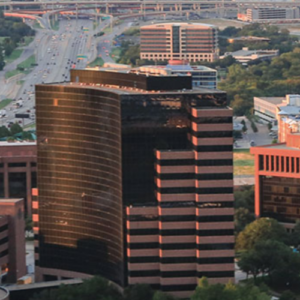 At Blue Star Dumpsters, however, you never get any of that. Ever. That's because we have more than a decade of disposal experience in Richardson and throughout the Metroplex. 
Because we're family-owned and locally operated (not a remotely run broker) you always feel like a top priority. To get affordable dumpster rentals, you simply call, text, or email. Then you pay a competitive rate with invoicing that tells you exactly what you're paying for without any gimmicks or hidden charges. 
In 24 hours or less, you have your dumpster. Then you fill your dumpster with all the junk you don't want. Call or text when you're done, and we'll come to take it away ASAP!
It's just as easy and breezy as it sounds. 
Getting affordable dumpster rentals on and off your property by a set deadline shouldn't be hard. And it never is with Blue Star Dumpsters. Call or text 214.495.1510 to get your free quote today!
Get your free quote today!
Frequently Asked Questions about Blue Star's Affordable Dumpster Rentals
While dumpster rentals in Richardson are simple, you do need to know some things.
Here are the top questions residents ask: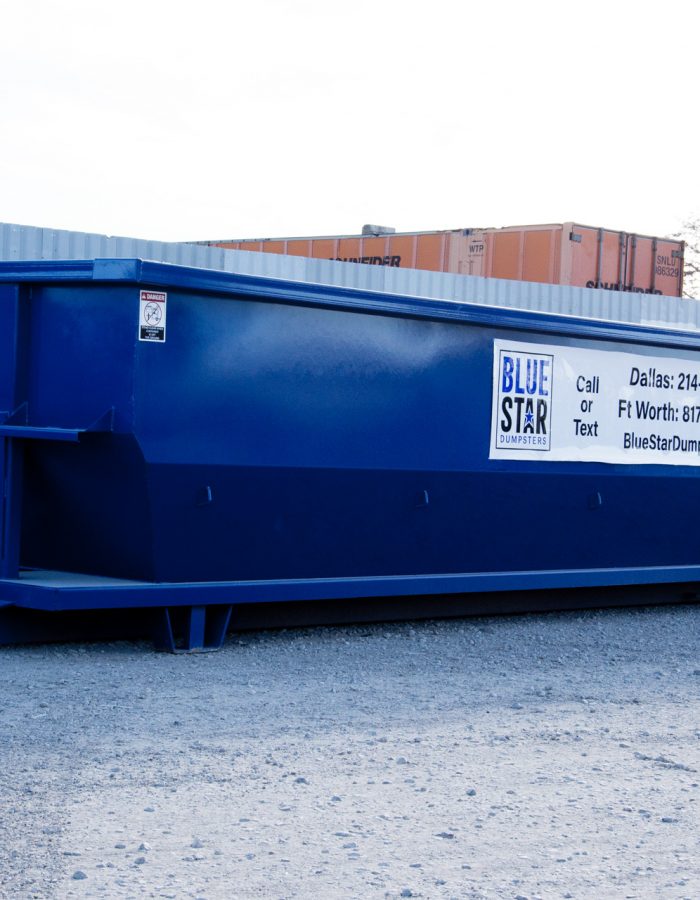 1. What can I put in my dumpster?
Here's a quick list of what you can and cannot put in dumpster rentals, and what you need approval to put in your dumpster rental. What you can put in:
Yard waste of any kind (grass, leaves, branches)
Painted or stained wood
Clean unpainted wood
Construction debris
Household garbage
Furniture
Drywall
Ask for approval about these:
Shingles
Sod and dirt
Concrete
Cement
Asphalt
Brick
Block
Paver stones
Sand
Gravel
You may not put these in dumpster rentals, or you may be subject to fines and additional fees:
Appliances
Batteries
Adhesives
Food
Drywall with asbestos
Paint cans
Chemical or liquid containers of any sort
Fuel, oil, grease, or any car fluids
Biomedical or radioactive waste
Fuel tanks/propane tanks
Hazardous waste
Animal waste or carcassas
Car tires
Bike tires
Unsure? Just call 214-495-1510 and we're happy to clear up the matter so you don't pay annoying fees or fines!
2. Do I need to do anything to prepare?
Dumpster rentals only require a flat level place to sit on. You should also lay down 4×8-foot pieces of plywood if the dumpster will go in your driveway. This protects your driveway from cracking. While we don't want to damage your driveway, it's your responsibility to protect yours. 
Call or text us if you need further clarification.
3. Can I call and get a dumpster rental tomorrow?
We can get you your dumpster rental next-day. 
However, don't wait until the last minute. Cancellations do happen, so you might get lucky and get one. But that's not a guarantee. We make every effort to get dumpster rentals to customers when needed.
4. Can dumpster rentals be canceled?
Yes. Give us at least 24 hours' notice to do so. If you cancel with less than 24 hours' notice, a cancellation fee applies. 
You can change the dates you need your dumpster too. However, again please give 24 hours of notice.
5. Should I just get the smallest dumpster possible so I pay less?
No. While a 30-yard dumpster rentals cost more than 20-yard ones, the biggest mistake customers make happens when they go with a smaller one to save a few bucks. 
Truthfully, you won't save money because you'll have to pay additional costs for transporting the dumpster and getting another one to fill. 
Most customers underestimate the amount of stuff they have to dispose. So you're best off choosing the largest size you think you'll need. 
You can also let us know what you're disposing of, and we can give you a recommendation.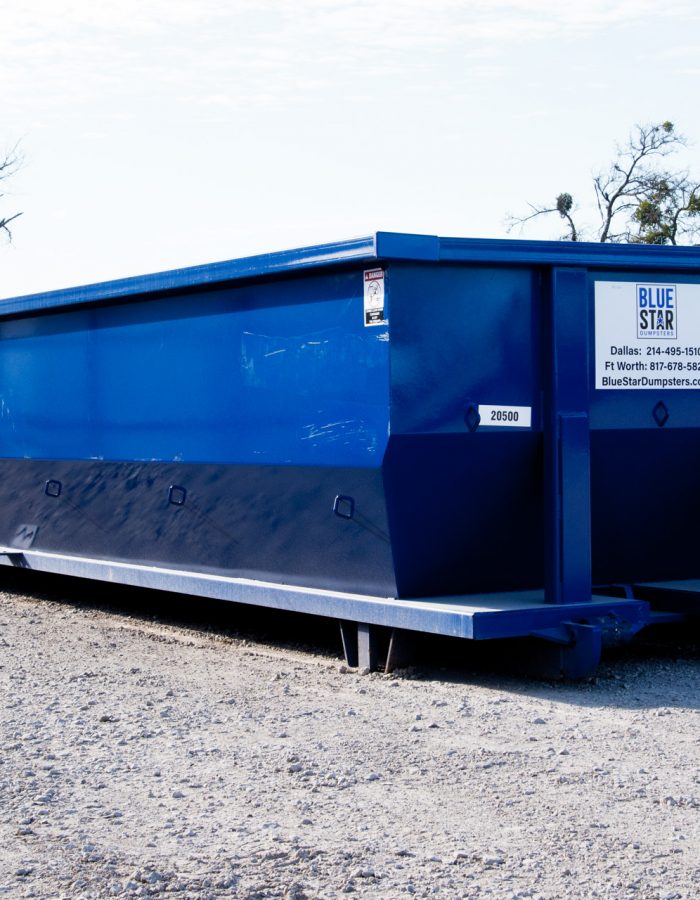 6. How much do dumpster rentals cost?
Blue Star's dumpster rentals are affordable and competitively priced. All our dumpster rentals are priced below $500. The difference you get with Blue Star lies in the quality of service – delivery in 24 hours without any invoicing games. And prompt answers from a person who cares and wants to solve your problem ASAP. 
However, once you identify the type of dumpster you need, you will get a single, clear price that doesn't involve confusing language designed to squeeze more money out of you. 
You pay once. You pay for what you use. And that's it!
7. Are there any additional fees I should know about?
There can be. But if dumpster rentals are used within the set guidelines, you don't pay anything extra. 
As a resident, If you use your dumpster rental for more than 10 days or overfill your dumpster, then additional fees will apply. 
And if you put stuff in your dumpster that you shouldn't, you may have to pay fines.
Additional fees also apply if you call for a pickup but aren't ready, or if we can't get to your dumpster because something's blocking its path.
8. How much can 20 or 30-yard dumpster rentals hold?
20-yard dumpster rentals hold quite a bit. One can store the equivalent of nine pickup truck loads. They work great if you're remodeling most of your home, need to hold about 400 square feet of decking, or if you have about 3000 square feet of shingles to dispose of. 
30-yard dumpster rentals hold 33% more – about 12 pickup truck loads. They work great for new construction, demolition, or replacing all of your home's siding. 
If you're not sure what you need, give us a buzz at 214-495-1510 and we're happy to help you identify the right sized dumpster.
9. Can dumpster rentals go in the street?
Maybe. You may need a permit. Ask your local municipality to make sure.
10. Do I have to sign anything?
Yes. We do have a simple agreement designed to protect both parties and clarify fees and usage so disputes ideally don't happen, or so they can be easily resolved.  
That agreement reflects exactly what you see on this website.
11. Does Blue Star serve commercial customers with affordable roll off dumpster rentals?
Yes. Almost all of the guidelines for residential dumpsters apply. However, you can keep your dumpster longer without paying additional fees (14 days). 
…And remember, we're woman-owned too!
Get Your Dumpster Rental Today

Leave the invoicing games and annoying hassles to the other guys. With Blue Star Dumpsters, you get good-old-fashioned exceptional service based on strong relationships.


Call 214.495.1510 to ask your questions and get your free quote today! to get your free quote today.