Easy, Reliable, and Affordable Dumpster Rentals for Fort Worth Residents and Businesses
Zero Hassles. No Hidden Fees!
It's time to get rid of your extra stuff. And you realize that taking it to the recycling center costs too much time. Giving it to your friends and family can take months. And they might not take everything.
And reselling your stuff online takes so much time that you make just a few dollars per hour!
So dumpster rentals make sense. But now, which company that offers affordable dumpster rentals do you choose?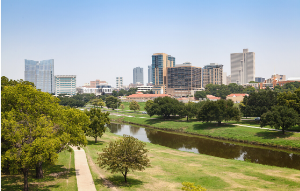 You know the risks of hiring a new service. They might not come on time…or at all. They may charge you all sorts of hidden fees. And if you call customer service to fix these problems, they might run you around in circles, giving you no solution at all.
Well, that's where Blue Star Dumpsters comes to your rescue. You always get your dumpster by the next day at the latest. You won't have any delays in disposing of all your extra stuff.
If you have to call customer service to address a concern, they give you a clear, concise answer that solves your problem. And when you get your invoice, you pay exactly as quoted and know precisely what you're paying for and why.
How do you know you can trust what we're saying?
Because our owner has more than a decade of experience in waste removal in Fort Worth. In one of her past businesses, leading nonprofits, for-profit businesses, and professional sports franchises called on her to remove their waste efficiently and at a reasonable price.
So, when you call Blue Star Dumpster, you learn when you'll get your affordable dumpster rental, pay for it, and then call again to have it picked up and removed when you're done.
There's nothing more to it than that.
And if you ever have any questions or challenges, simply call or text 214.495.1510 to talk to a live, local customer service rep who listens to your question and gets you a prompt solution. Simply call or text 214.495.1510 to get your free quote today!
Get your free quote today!
FAQs: What Do I Need to Know about Dumpster Rentals Before Renting One?
Blue Star's goal is to make affordable dumpster rentals as fast and easy as possible. And there are some things to know before you rent yours.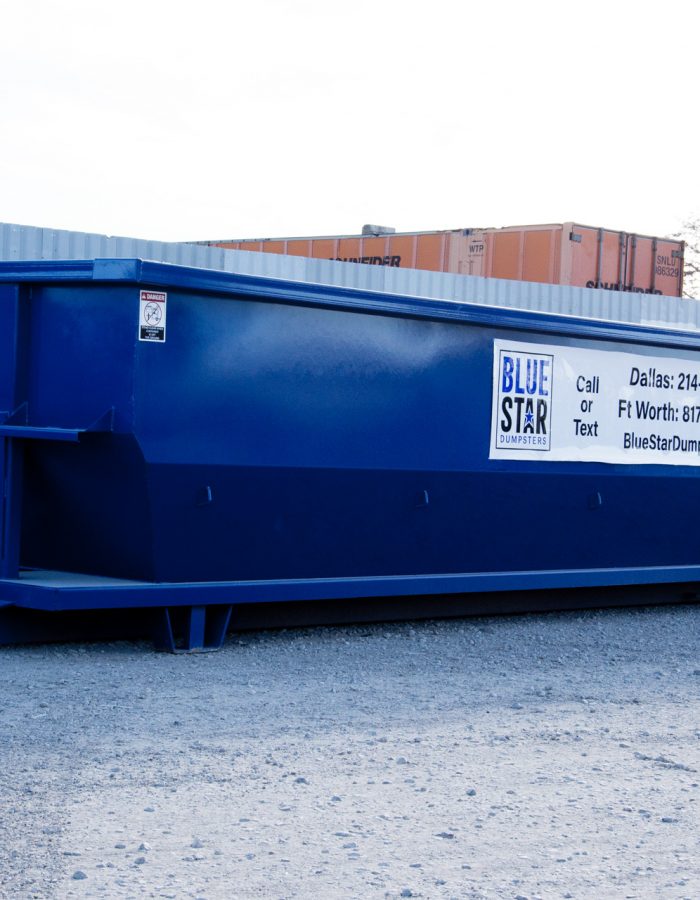 1. How soon can I get my dumpster rental?
The soonest we can promise is the next day.
You do have a chance of getting your dumpster rental faster than that. However, this requires another customer to cancel theirs.
We can't promise other customers will do that. But, we can promise you will get yours next-day.
It's best not to wait until the last minute. Instead, reserve yours the second you know you'll need one.
2. What do I need to do to prepare my property for a dumpster rental?
Our delivery truck and a 20-30 yard dumpster need to be able to fit on your property. So, they need unblocked access to where you'd like yours to be. 
And the final resting spot for your affordable dumpster rental must be flat and level (usually on your driveway). 
You may need to get permission from your HOA regarding this. 
And if you want your dumpster rental to go on your driveway, make sure you have 4×8-foot sheets of plywood to place underneath your dumpster. That prevents cracking or any other damage to your driveway
3. Can I put my dumpster rental on the road?
How can I avoid overfilling my dumpster rental?
4. How can I avoid overfilling my dumpster rental?
It's tempting to rent a smaller dumpster because it costs less. But, customers who do this usually find themselves paying more because they must have their dumpster rental taken away and then delivered again.
Estimating the correct size of dumpster rental you need isn't as hard as it first seems.
We advise you to look at how you will dispose of material. If you simply carry your stuff on foot, you'll be fine with a 20-yard dumpster.
If you have machinery helping you dispose of material, then you should go with a 30-yard dumpster rental.
If you're not sure what makes most sense for you, just call or text 214.495.1510 and we're happy to help you figure it out!
5. Is there anything I can't put in my dumpster?
Yes. You know how disposal laws have changed over the past couple decades. We're subject to those too. We don't get a special pass or licensing or anything like that.
So, here's what you can put in your dumpster:
Yard waste
Painted or stained wood
Construction debris
Garbage from around your home
Furniture
Drywall without asbestos
You may be able to put the below in your affordable dumpster rental. However, please ask us for approval first:
Roofing shingles
Sod
Dirt
Concrete
Asphalt
Cement
Brick
Block
Pavers
Sand
Gravel
And here's what you absolutely cannot put in your dumpster rental. Be aware that placing the below in your dumpster rental results in extra fees and fines:
Tires
Appliances
Batteries
Animal carcasses
Animal waste
Hazardous waste
Propane tanks
Fuel tanks
Biomedical waste
Radioactive waste
Car grease
Oil
Car fluids of any kind
Fuels of any kind
Liquid containers
Chemical containers
Paint cans
Drywall (with asbestos)
Food
Adhesives
If you have any doubt about what you want to put in your dumpster rental, please call or text 214.495.1510.
We don't want you to get any additional fees, and we can help you figure out how to dispose of whatever it is that concerns you.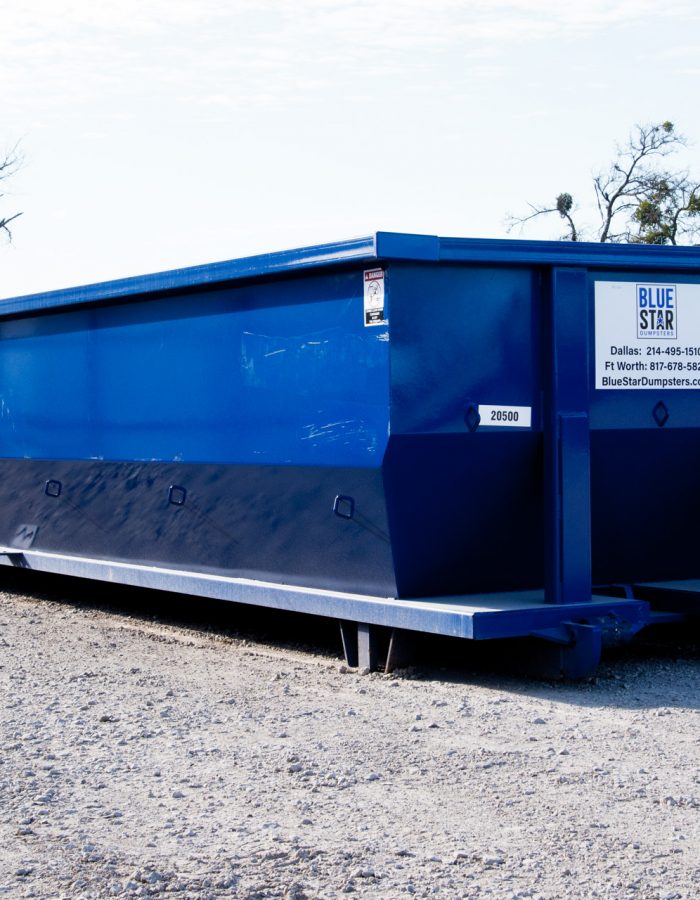 6. Is Blue Star a Broker?
No. We do get business referrals from dumpster rental brokers. However, we directly provide the service and have a building locally here in the Metroplex.
That means you talk to a local Texan who cares about other Texans just like you. And it means you don't get transferred in circles until you're dropped.
You always get a prompt, clear resolution to your concern.
7. What do dumpster rentals cost? Do additional fees apply?
You'll never pay more than $500 for your dumpster rental with Blue Star. Additional fees can apply. But if you follow the simple guidelines below, you won't have to worry about any additional fees: 
Keep your dumpster rental 10 days or less (additional fees apply for keeping your dumpster longer than 10 days)
Don't overfill your dumpster
Never put any specifically prohibited materials in your dumpster
Never call for a pickup and then not be ready for it 
Keep the path to your dumpster rental clear so our truck can easily access it 
Don't cancel your dumpster rental with less than 24 hours of notice
If you stay within those guidelines, you have nothing to worry about. And if you have any questions or confusion, just call or text 214.495.1510 and we'll clear the matter up for you!
8. I'm a business. Does Blue Star have roll off dumpsters?
Yes. You can get a roll dumpster for weeks and months if you need one (or several) to do your work.
And roll off dumpster customers like you get the same reliable service residential customers get.
Affordable Dumpster Rentals in Fort Worth Don't Get Any Easier!
Save yourself stress and hassle. Focus on getting rid of your stuff. Call or text Blue Star at 214.495.1510 to get your free quote today!