Easy, Reliable, and Affordable Dumpster Rentals in the DFW Metroplex
Zero Hassles. No Hidden Fees!
Time to toss a lot of stuff out, or have a home remodeling project? You could haul it all to your local recycling center. But that takes a lot of time.
You could sell your stuff online. But that takes a lot of time, only makes you a few dollars per hour, and it might be months or more than a year before you get rid of your stuff.
You could host a garage sale, but that takes a lot of time and you might not get rid of all your stuff.
Or, you could look at dumpster rentals in the DFW Metroplex because then you can throw all your stuff away without spending a ton of time doing it.
But that raises another problem: which dumpster rental company do you choose?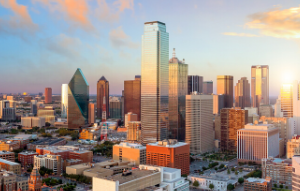 Maybe you've heard the stories of companies showing up late or not at all. Or maybe you know someone who didn't get charged as the dumpster rental company promised.
Or you might have a friend or neighbor who had to fight tooth and nail with many phone calls just to get their dumpster and get charged correctly.
It happens in every business…including dumpster rentals.
And that's where Blue Star Dumpsters comes to the rescue.
We're based right here in the DFW Metroplex and serve the entire area. Our owner has more than a decade of experience in waste removal. In her previous business, she served leading private companies, nonprofit organizations, and professional sports teams.
So, she knows exactly how to give you excellent service and fair pricing.
Just call, pay, get your dumpster next day, fill it up in 10 days or less, and ask Blue Star to take it away.
That's it. That's all there is to it. No hassles. No hidden fees. No confusing contract terms.
Just great service from a company who takes pride in giving you the best service possible.
Call or text 214.495.1510 and a live person right here in Dallas & Fort Worth (we're not a broker) will answer your questions and get you set up with a free quote.
Get your free quote today!
FAQs: What Should I Know about Blue Star's Dumpster Rentals Before Renting?
It's easy to understand how dumpster rentals work at Blue Star. We aim to make your service as fast and simple as possible.
Here's some things to understand so you have a smooth experience: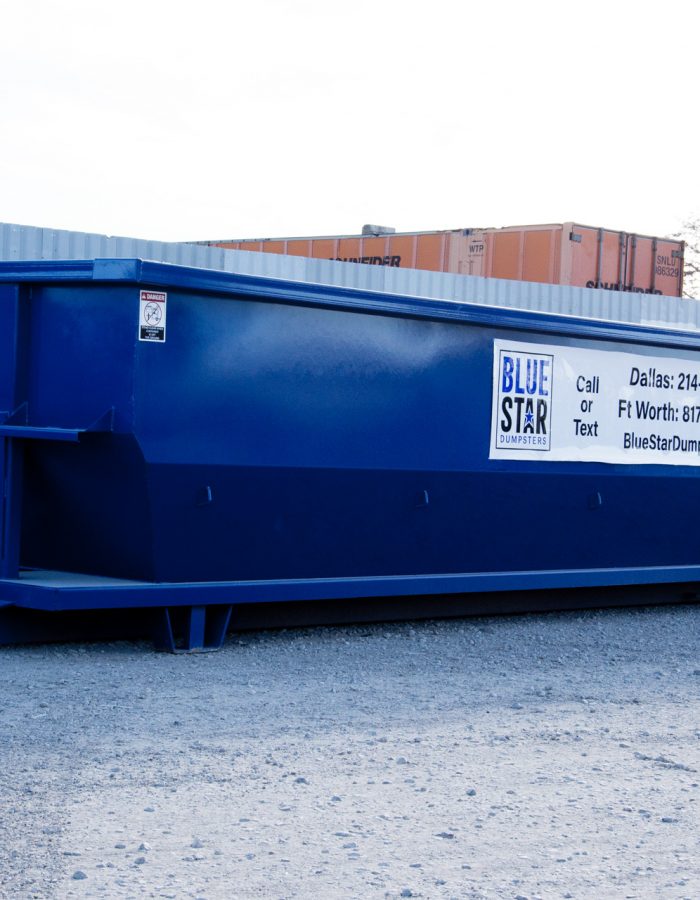 1. How much do dumpster rentals cost?
They're affordable. Dumpster rentals run no more than $500 at Blue Star. That's competitive with other companies in the DFW Metroplex. 
However, with Blue Star, you get a locally owned and operated company who prides itself in giving you service with absolutely zero hassles. You get clear answers to your questions. You get your dumpster the next day. And you pay exactly as quoted, and no more. 
That's the difference between us and other companies in the DFW Metroplex.
It's best not to wait until the last minute. Instead, reserve yours the second you know you'll need one.
2. What size does my dumpster rental need to be?
Blue Star offers 20 and 30-cubic-yard dumpsters. We advise you to think about how you'll be disposing of stuff to judge which type of dumpster you should rent.
If you'll pick up stuff and walk it to your dumpster, you'll be fine with a 20-yard dumpster. If you'll use machinery to load your dumpster rental, you should go with a 30-yard dumpster.
In general, you want to lean in the direction of going with a larger dumpster. That's because it costs more to fill a smaller dumpster, have it taken away and delivered again, and then refill it and have it hauled away a second time.
It's cheaper to get a larger dumpster delivered once and hauled away.
If you're not sure what to do, just call or text 214-495-1510 and we'll be happy to help you figure out what works best for your needs.
3. How soon can I get my dumpster rental?
We can promise you next-day delivery. However, you shouldn't wait until the last minute to reserve yours. Always reserve it as soon as you know when you'll need it. 
In rare cases, you may get yours sooner than next-day. This could happen when another customer cancels their dumpster rental. 
We can't promise that will happen though.
4. What can and can't I put in my dumpster rental?
While we aim to make renting dumpsters as simple as possible, there are some things you can and can't put in dumpster rentals. 
Here's what you can put in yours: 
Yard waste
Painted wood
Stained wood
Construction debris
Household garbage
Furniture 
Drywall (without asbestos)
You might be able to put the below items in your dumpster. However, ask us for permission first: 
Shingles
Sod
Dirt
Gravel
Sand
Pavers
Block
Brick
Asphalt
Cement
Concrete
Dirt
And you definitely cannot put the below items in your dumpster. Doing so may result in fees and fines: 
Animal carcasses
Animal waste
Hazardous waste
Propane tanks
Fuel tanks
Radioactive waste
Biomedical waste
Car grease
Oil
Fuel
Car fluids
Liquid containers
Chemical containers
Paint cans
Drywall with asbestos
Food
Adhesives
Batteries
Appliances
Any type of tires
Unsure about something you have that doesn't show up on this list? Call or text 214-495-1510 and we'll let you know how to get rid of it.
5. Do additional fees ever apply?
Sometimes. It's our goal to make sure you don't pay any additional fees. However, additional fees can apply if you: 
Keep your dumpster rental for more than 10 days 
Overfill your dumpster
Put stuff in your dumpster that you shouldn't
Call to have your dumpster rental picked up but aren't ready
Block the path to your dumpster so our driver can't access it 
Cancel your dumpster rental with less than 24 hours of notice
Stay within these simple guidelines and you won't have to pay any additional fees.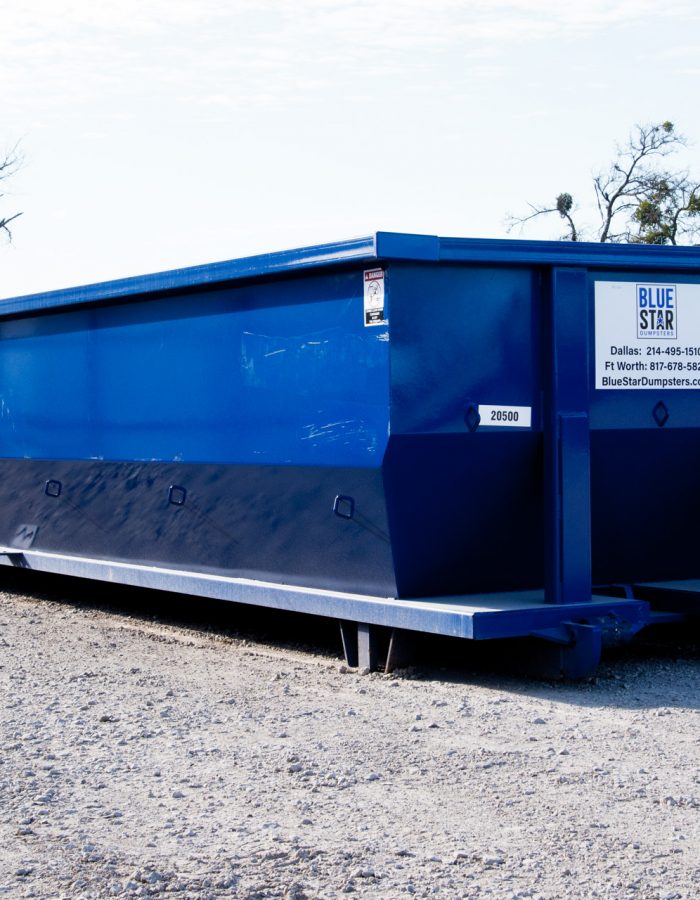 6. Can affordable dumpster rentals go on the road?
Perhaps. You'll have to call your local municipality to find out for sure.
7. How do I prepare my property for a dumpster rental?
There's not much you have to do. You need a clear path so our truck can easily deliver a 20-30 cubic yard dumpster to the desired area on your property. 
In most cases, you cannot place your dumpster rental on your lawn. This usually has to be on your driveway. 
To protect your driveway, you should have cheap 4×8-foot sheets of plywood to place your dumpster rental on. This prevents cracks caused by the weight of the dumpster when full. 
If you have unique situations on your property and need help making sure everything will go smoothly, just call or text 214-495-1510 and we're happy to help.
8. Is Blue Star a broker?
No. 
We are 100% locally owned and operated in the DFW Metroplex. Sometimes, we get service requests from brokers. 
But our building and employees can all be found right here in the DFW Metroplex.
8. I'm a business. Does Blue Star offer commercial roll-off dumpsters?
Yes. We can connect you with roll off dumpsters that you have hauled away multiple times over a period of weeks or months. 
You get the same great service as DFW Metroplex homeowners. Just call or text 214.495.1510 and let us know what you need! 
Affordable Dumpster Rentals Don't Get Any Easier for Homeowners or Businesses in the DFW Metroplex
You have a disposal project to worry about. Let us take care of the dumpster while you focus on more important things. Just call or text 214.495.1510 to get your free quote today!